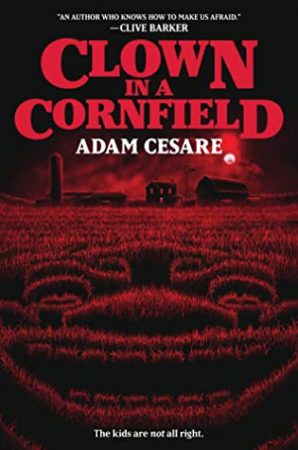 Clown in a Cornfield
by
Adam Cesare
Genre:
Horror
Release Date:
25th August 2020
Publisher:
HarperTeen
Source:
Publisher
Add it:
Goodreads
Rating:
Quinn Maybrook just wants to make it until graduation. She might not make it to morning.

Quinn and her father moved to tiny, boring Kettle Springs to find a fresh start. But ever since the Baypen Corn Syrup Factory shut down, Kettle Springs has cracked in half. On one side are the adults, who are desperate to make Kettle Springs great again, and on the other are the kids, who want to have fun, make prank videos, and get out of Kettle Springs as quick as they can.

Kettle Springs is caught in a battle between old and new, tradition and progress. It's a fight that looks like it will destroy the town. Until Frendo, the Baypen mascot, a creepy clown in a pork-pie hat, goes homicidal and decides that the only way for Kettle Springs to grow back is to cull the rotten crop of kids who live there now.
I requested Clown in a Cornfield partly because I'm getting more and more into horror lately and I thought this sounded like something I'd enjoy, and partly because it sounds like the title of an Animal Ark book (does anyone remember those?). I'm sad to say that I didn't like Clown in a Cornfield as much as I was hoping to, as I felt it lacked a lot of substance.
I think Clown in a Cornfield would have been better as a graphic novel, a comic, or even a movie. I felt like the author cut a lot of corners while writing this one, in that the descriptions and character connections were lacking and the book mostly just focused on the action. Don't get me wrong, I love action filled plots, but I also have to care about the characters who are being murdered by a killer clown, ya know?
I have to say that some parts of the book were delightfully gory and tense, but that didn't make up for the fact that I just didn't connect with most of the book. I'm a bit disappointed!