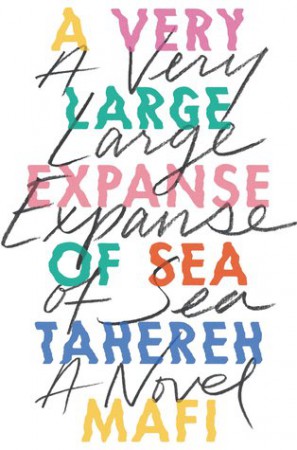 A Very Large Expanse of Sea
by
Tahereh Mafi
Genre:
Contemporary
Release Date:
16th October 2018
Publisher:
HarperTeen
Source:
Publisher
Add it:
Goodreads
Rating:
It's 2002, a year after 9/11. It's an extremely turbulent time politically, but especially so for someone like Shirin, a sixteen-year-old Muslim girl who's tired of being stereotyped.

Shirin is never surprised by how horrible people can be. She's tired of the rude stares, the degrading comments—even the physical violence—she endures as a result of her race, her religion, and the hijab she wears every day. So she's built up protective walls and refuses to let anyone close enough to hurt her. Instead, she drowns her frustrations in music and spends her afternoons break-dancing with her brother.

But then she meets Ocean James. He's the first person in forever who really seems to want to get to know Shirin. It terrifies her—they seem to come from two irreconcilable worlds—and Shirin has had her guard up for so long that she's not sure she'll ever be able to let it down.
This. Book. Was. Incredible. I am super impressed by A Very Large Expanse of Sea. I was very hesitant to read it at first because I hated Shatter Me and Adam and Warner were both awful, but I thought I would give it a go to see if Mafi's writing has improved. And it really has!
This story was absolutely wonderful. The book follows Shirin as she deals with life and arsehole classmates and neighbours. I did wonder if Shirin was a bit of a self insert by the author, but to be honest I don't really care if she is. Shirin was a lovely character to read. She's just so good, and I can't even explain why. I just really enjoyed reading about her and her life and her struggles. I liked how fierce she is.
Also, I have to mention the romance. The romance! I loved it! I can't remember the last time I said this about a book but OH MY GOD it was so great. I ship it. Ocean, the love interest, was lovely.
One thing that I was wondering was why it was set one year after 9/11. I'm not sure how much it really added to the plot, since I'm sure Muslim girls go through all of this stuff nowadays in 2018. If anyone is able to enlighten me, please do! This isn't a complaint, I'm just really not sure what the point was.
Sana loved it as well, and I think we should all trust her opinion.
I really hope Mafi writes more contemporary because I loved this and I will definitely read more from her. Unless it's YA paranormal/dystopia because I'm not sure I can trust that.