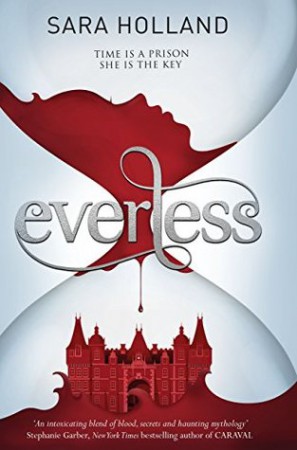 Everless
by
Sara Holland
Series:
Everless #1
Genre:
Fantasy
Release Date:
4th January 2018
Publisher:
Orchard Books
Source:
Publisher
Add it:
Goodreads
Rating:
In the land of Sempera, the rich control everything - even time. Ever since the age of alchemy and sorcery, hours, days and years have been extracted from blood and bound to iron coins. The rich live for centuries; the poor bleed themselves dry.

Jules and her father are behind on their rent and low on hours. To stop him from draining himself to clear their debts, Jules takes a job at Everless, the grand estate of the cruel Gerling family.

There, Jules encounters danger and temptation in the guise of the Gerling heir, Roan, who is soon to be married. But the web of secrets at Everless stretches beyond her desire, and the truths Jules must uncover will change her life for ever ... and possibly the future of time itself.
I went into Everless thinking it was a time travel/fantasy book but I was kinda wrong. It's actually about a girl who can manipulate (i.e. stop and slow down) time. It's not quite the same thing. I need to start reading synopses before I request things.
Everless isn't the most original YA fantasy I've read in terms of the plot. It's all very standard YA that wouldn't really standout from the crowd. This isn't necessarily a bad thing, but if you read a tonne of young adult fantasy books then you'll know the formula and you'll know what to expect and when.
That said, I adored the world building in Everless and that is what made it so enjoying and stand out to be. The world building was completely solid and made up for the mediocre (too harsh?) plot. I adored the way Holland wove mythology and history into the present day, and I love how everything tied together. The stories about the Alchemist and the Sorceress were wonderful. This was a big plus.
I, somewhat surprisingly, really enjoyed the ship? It's exactly my kind of thing. I'm not going to say anything about it other than that because I think anything specific would spoil you, but just know that I am kinda picky when it comes to shipping (STOP ROLLING YOUR EYES AT ME) and this ship was good. I'm really looking forward to seeing where it goes in the sequel.
The main character, Jules, was decent, but she was absolutely crap at keeping secrets. Oh my god. I was rolling my eyes at her so many times because people told her over and over again to keep her mouth shut and not to do things and she did the complete opposite and blabbed to absolutely everyone. I hope she grows out of that in the sequel because she can't keep living like that. She's actually going to get herself and everyone else killed.
I'd definitely recommend Everless as it's a solid debut with some really good world building that I think (and hope!) Sara Holland can expand upon. There's a lot of potential for a really good series here! Also, it reminded me of Red Queen, if that helps at all.