As someone who loves travelling and exploring almost as much as she loves books, I wanted to start incorporating more travel stuff into my blog. This started with my Amberica posts, and will continue when I write about my adventures in Germany, but I really wanted to start a feature that combined both books and travel, rather than focussing on travel alone. And so, World of Bookshops was born. It's not the most creative name for a feature, but I had a lot of trouble coming up with something that fit, so this will have to do!
This time, I wanted to talk to you about Foyles. It's a pretty well known store, and I don't think it needs any publicity, but I was in Leicester Square recently and I just had to take a quick walk up the road to go and take some photos. And also buy some books.
To give you a little bit of history, Foyles was founded by two brothers back in 1903, making the business a whopping 111 years old this year. It changed hands a few times, and also changed location, but that didn't deter people from visiting and shopping at the store. In true British fashion, one of the owners (the daughter of one of the original brothers) started hosting literary luncheons which many literary figures and members of various royal families attended.
Aside from the main shop at Charing Cross Road, a few other branches have also been opened, most notably the two at Westfield shopping centre and also one at Waterloo station. Back in 2001, a feminist bookshop called Silver Moon Bookshop was incorporated into Foyles to save it from complete closure, which is pretty awesome.
In the store at Charing Cross Road, there are multiple floors packed with bookshelves. I haven't taken a full tour of the shop, because I've always been in a bit of a hurry, but I have looked at the ground floor, where the Young Adult and Children's sections are, and the first floor, where the fantasy section and the manga and graphic novel sections are located.
This is what you see when you walk straight ahead from the front entrance towards the YA section. The young adult bookshelves continue around the corner to the right as well. There's a table in the centre which showcases a bunch of books, and it's always fun trying to spot your favourites!
Here's a small taster of the young adult section at Foyles. It's pretty extensive, and there is a good mixture of both UK and US releases. You might be able to spot a few US editions on the left. The only downside is that these US copies are expensive to make up for importing them. There were plenty of books that I wish I could have bought, but unfortunately I had already spent a lot of money that day and I didn't want to go over the top.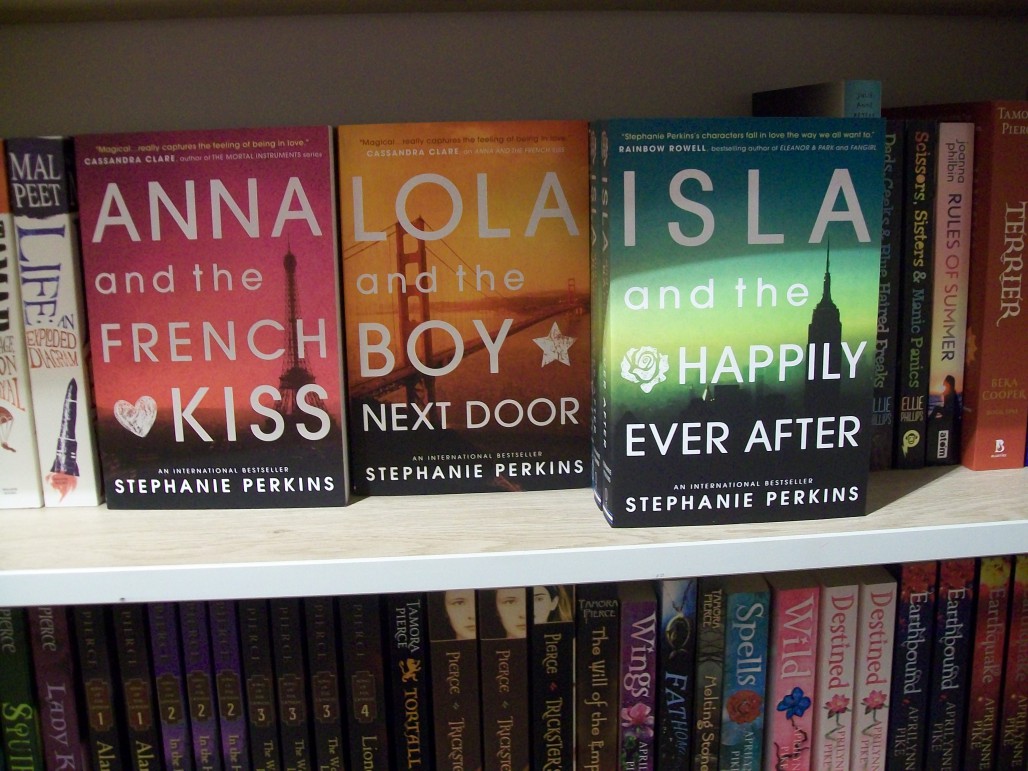 They also have some pretty books on display!
There's a whole bookshelf dedicated to Harry Potter as you walk out of the YA section, so I was obviously drooling over it for a while. Again, I had to restrain myself from whipping out my debit card because I would have gone crazy here.
If you walk up onto the first (or second, if you're American) floor and go to the left, you come to a slightly more open area where the comics and manga and graphic novels are situated. As you can see from the photo, the Marvel and DC comics are separated from each other to prevent confusion – and probably also to prevent fights breaking out between die hard fans.
On the other side of the long bookshelf is the manga. They have a lot of well known series like Attack on Titan and Death Note, as well as slightly lesser known ones. If I ever want to get into manga, Foyles will be the place I visit first for extensive research.
If you go right instead of left at the stairs to the first floor, you reach the fantasy section, which is actually pretty huge. I didn't take any photos of the bookshelves themselves because they are packed quite close together, and there were people in each aisle. Obviously, I headed straight for the Brandon Sanderson books and I got my hands on Warbreaker.
I have only featured three different sections of the store in my post today, but there is so much more to Foyles than this. There's a café and a reading area, and several more genre sections and sections for different specialisations. I can't wait to go back there, and I hope that next time I can stay for longer.