[book-info]
 I've been reading this trilogy for almost a year now and finally finished it this month. This final book is over eight hundred pages long in order to wrap up everything that has happened. EXCEPT.
The Sweet Far Thing wavered on a two star rating for nearly half the book because literally nothing happens; it was incredibly frustrating to read about Gemma, Felicity and Ann frolicking around in the realms despite the GLARING and OBVIOUS events happening around them. Gemma especially annoyed me – for a huge amount of the book she remains wilfully ignorant of her responsibilities and suspicions, just so that she can have fun with her two friends. They'd already done that in the two books preceding this one, so it felt like unnecessary filler and was very boring to read about. Thankfully the plot picks up in the second half and was engaging although still not what I expected from the last book in a trilogy with as much potential as this one. Gemma finally pulls her head out of the sand and starts doing things; I was amazed considering I'd assumed she'd lost her brain somewhere in the first thirty pages. The climatic events at the end of the book were fun though predictable; the end to the romantic subplot was a bit eh but since that was never one of the best aspects of the trilogy it was easy to shrug off (no1curr about dudes in a book about ladies amirite).
As far as the characters go, I've already mentioned how annoying Gemma was for much of this book. I was not impressed with her refusal to acknowledge the dangers of playing in the gardens while war was brewing right outside of it. I wanted her to grow up tbh, as she had done in the last book, and realise that her powers weren't a plaything. Gemma does eventually do all of these things but it takes a very long time for her to get there. Ann was pretty much as annoying as she has been in the other two books – I always find myself agreeing with Felicity whenever she points out that Ann won't fight for herself. She does get a happy ending, which I didn't expect really, but it felt a bit artificial and not at all something that would have happened realistically. In contrast to Gemma and Ann I found Felicity and Pippa intriguing. Pippa has always been one of the best aspects of the trilogy because of her story and what she begins to become. In this final book, Gemma and her friends find themselves face to face with the result of their wilful ignorance toward Pippa's state and it's awesome. I do so deeply enjoy it when characters go batshit. As for Felicity…she has always been my favourite character and never more so than in a pivotal moment in this book. She is as frustrating as Gemma and Ann are, if not more so, but unlike the two Felicity is revealed to have a reason for her behaviour and it sort of broke my heart a little bit, even while I was doing victory laps around my room yelling 'I knew it, I knew it, subtext becoming text is the greatest and most wonderful thing!' And it makes her eventual decision to stand by Gemma even more poignant – I think out of all four characters it is Felicity who grows the most.
Also, the next time anyone tells me I'm reading too much into subtext, or that it's not there, I'm going to take this book and beat them with it because I was RIGHT. Literally me at that moment in the book: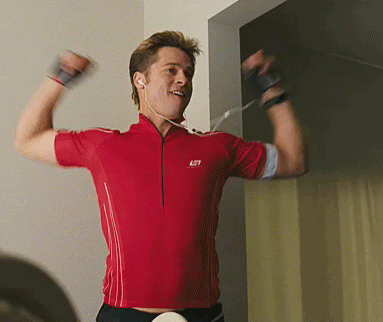 Witchcraft, man. It MEANS THINGS. Just ask Lauren!
Okay so honestly this is still a three star book. I may have given it an extra star purely because it deserved one for such an excellent reveal. I wasn't disappointed in The Sweet Far Thing by the end but at the same time I just don't think it's as strong a book as the other two. It was an okay end to a good series with some excellent moments but there was entirely too much padding. I think you could cut a good two or three hundred pages and not miss anything tbh.
Page Count: 819