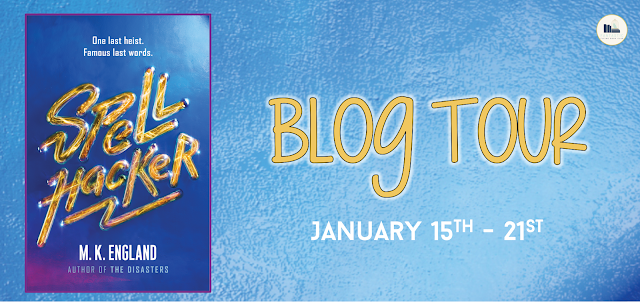 I'm taking part in the Spellhacker blog tour today and I'm excited. I'm so happy so many people are loving this book! If you want to check out the rest of the tour and the other hosts, take a look at the official schedule and it should be updated with everyone who has come before me!
[book-info]
I think a lot of people are going to absolutely love Spellhacker, especially if we're taking early reviews into account. I think it's the perfect combination of snark, friendships, relationships, and diversity that (most) people will enjoy, and I'm so happy that England wrote it.
I personally thought that Spellhacker was a bit too quirky for my tastes. It felt as though the author was trying too hard to have the characters be snarky and cute, and the banter got a little bit out of hand when they were in more serious situations.
Don't get me wrong, I enjoyed the book, but I feel like if it had had a bit more of a serious edge to it, I would have enjoyed it more. Maybe I just don't click with quirkiness any more? It's probably my old age talking.
The main character, Diz, was, at times, hilarious, and I did really enjoy reading the book from her point of view. I loved that she was a skilled hacker, and that her background was super tough because I LOVE THAT (I can relate), and her relationships with her three best friends were on point.
Also worth mentioning is that Diz's love interest is non-binary (ownvoices!), and that was some really great rep, needless to say. I loved that the relationship was kind of on and kind of not in the beginning, and it was clear that Diz had feelings for Remi, but the relationship still had to build up throughout the book. It gave us something to look forward to!
I also enjoyed the heist element of the plot a lot, although I wish there had been more focus on it. I realise that a lot of this book focused on it, but I was ready for an entire book about heists, not the main characters running away from trouble.
Spellhacker is a really good book full of banter, and I think most people will really enjoy it!