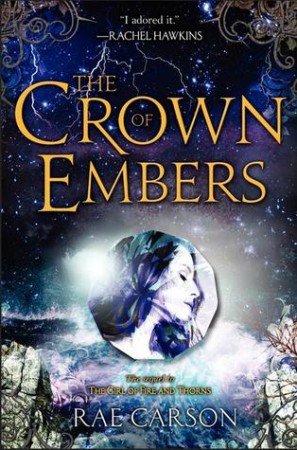 The Crown of Embers
by
Rae Carson
Series:
Fire and Thorns #2
Genre:
Fantasy
Release Date:
September 18, 2012
Publisher:
Greenwillow
Source:
Bought
Add it:
Goodreads
Rating:
She does not know what awaits her at the enemy's gate.

Elisa is a hero.

She led her people to victory over a terrifying, sorcerous army. Her place as the country's ruler should be secure. But it isn't.

Her enemies come at her like ghosts in a dream, from foreign realms and even from within her own court. And her destiny as the chosen one has not yet been fulfilled.

To conquer the power she bears, once and for all, Elisa must follow a trial of long-forgotten—and forbidden—clues, from the deep, hidden catacombs of her own city to the treacherous seas. With her go a one-eyed spy, a traitor, and the man whom—despite everything—she is falling in love with.

If she's lucky, she will return from this journey. But there will be a cost.
This is a difficult review to write because I'm not sure what to say aside from the stuff I already covered in my review of The Girl of Fire and Thorns. The two books are equally great, and I liked them both equally. In The Crown of Embers, Elisa is facing more problems with being queen, and she has to figure out how to defend her queendom (squee) with the help of Hector (SQUEE) and her other friends in her court.