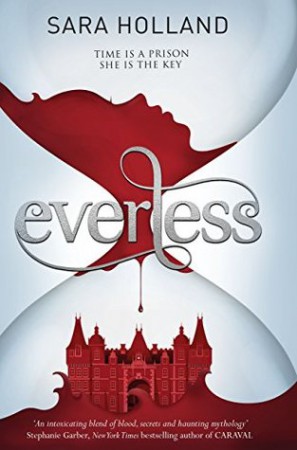 Everless
by
Sara Holland
Series:
Everless #1
Genre:
Fantasy
Release Date:
4th January 2018
Publisher:
Orchard Books
Source:
Publisher
Add it:
Goodreads
Rating:
In the land of Sempera, the rich control everything - even time. Ever since the age of alchemy and sorcery, hours, days and years have been extracted from blood and bound to iron coins. The rich live for centuries; the poor bleed themselves dry.

Jules and her father are behind on their rent and low on hours. To stop him from draining himself to clear their debts, Jules takes a job at Everless, the grand estate of the cruel Gerling family.

There, Jules encounters danger and temptation in the guise of the Gerling heir, Roan, who is soon to be married. But the web of secrets at Everless stretches beyond her desire, and the truths Jules must uncover will change her life for ever ... and possibly the future of time itself.
I went into Everless thinking it was a time travel/fantasy book but I was kinda wrong. It's actually about a girl who can manipulate (i.e. stop and slow down) time. It's not quite the same thing. I need to start reading synopses before I request things.