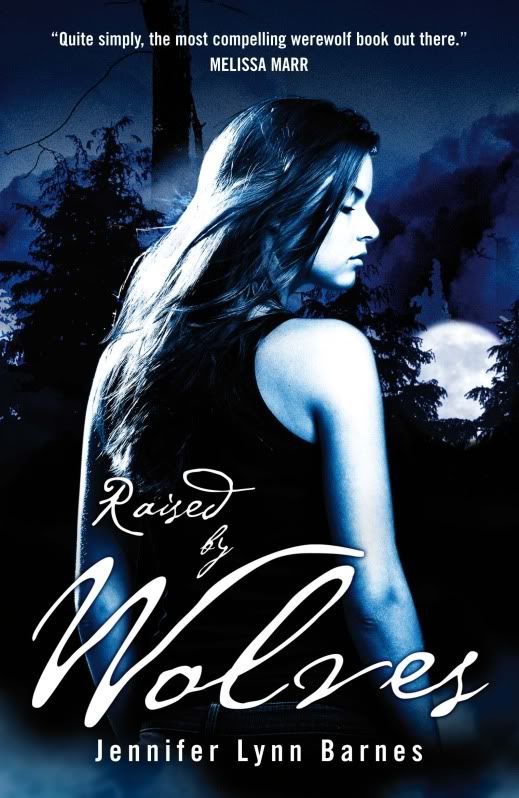 Raised by Wolves by Jennifer Lynn Barnes
Raised by Wolves #1
Release Date: September 16, 2010
Publisher: Quercus
Rating: Bland


Adopted by the Alpha of a werewolf pack after a rogue wolf brutally killed her parents right before her eyes, fifteen-year-old Bryn knows only pack life, and the rigid social hierarchy that controls it. That doesn't mean that she's averse to breaking a rule or two.

But when her curiosity gets the better of her and she discovers Chase, a new teen locked in a cage in her guardian's basement, and witnesses him turn into a wolf before her eyes, the horrific memories of her parents' murders return. Bryn becomes obsessed with getting her questions answered, and Chase is the only one who can provide the information she needs.

But in her drive to find the truth, will Bryn push too far beyond the constraints of the pack, forcing her to leave behind her friends, her family, and the identity that she's shaped? – Goodreads
Raised by Wolves

tells the story of a teenage human girl named Bryn, who was quite literally raised by wolves. Werewolves, to be more precise. It follows her journey as she discovers things about her Pack, and even more things about her past.
After hearing such raving reviews about this when it was first released, I couldn't wait to get stuck in. However, when I started this book last month, it took me a long time to get into. The first 75 or so pages were a pretty mediocre read, they just followed Bryn on her day-to-day life. After that, I had to take a break. When I came back to it, it wasn't much better, but I carried on reading just so I could get a review out about it.
I found the plot to be very fast paced once it got going, but it just wasn't engrossing enough for me. Also, at times, I was left utterly confused about what was happening in the story. Jennifer Lynn Barnes seemed to get lost in her own story, without thinking to explain to the reader. The mystery part of the plot was, however, pretty well done! However, after a certain event in the story, I had to put the book down yet again and just shake my head in disgust. After that, everything seemed to just slip by me as I was reading. The ending wasn't great. I found it to be rather unbelievable – I know it's a book about werewolves, but still! – and it all just seemed rather silly.
The main character, Bryn, was a headstrong and rebellious fifteen year old girl. That's all I really knew about her personality. To me, she seemed a lot older than 15, and I do think that she should have been made older due to certain events that happen in the book.
Most of the other characters were mediocre. Callum, the Pack Alpha, was my favourite character to begin with, however I started to hate him after about 150 pages. Chase, the teenage love interest, was extremely bland and didn't seem to have a personality at all. There was no character development there, and I just didn't care for him.
I did, however, LOVE Bryn's best friend Devon, and her female best friend Lake. Out of all of the characters, these two – well, more so Lake than Devon – were the most well thought out and described. I would have loved to have seen more of them!
The writing style was one of the main things that threw me off, and made me dislike the book. There were one word sentences just thrown around, and at first I thought it was pretty cool, as the author was trying to show how wolves think, but the words "Pack" "Mine" "Protect" became extremely repetitive and extremely dull very quickly.
I probably won't be reading the sequel any time soon, as this book just didn't do it for me.