Summer is happening right now for some of the world. For others, like those of you in the Southern Hemisphere and those of us who live in Britain, we have to live vicariously through contemporary novels in order to get a bit of sunshine and experience temperatures above 18C. I decided now would be a good time to recommend some of my favourite summer reads, by which I mostly mean contemporary novels because those are the best kinds of books to read at the beach, by the pool, or wrapped up in bed while daydreaming about summer.
i would recommend
Amy & Roger's Epic Detour by Morgan Matson
Obviously, I have a bit of a thing for Morgan Matson. I think she's a very talented writer, and I've either really enjoyed her books, or absolutely adored them. They're the perfect contemporary reads for summer, and I always feel like I'm baking in the sun even if it's raining here in England. Amy & Roger's Epic Detour is Matson's first book, and it's one of the ones that kicked off the whole road trip trend. Amy and Roger travel from the west coast to the east to reunite Amy with her mother, who left a little while before they did. I'd recommend it if you're looking for a road trip book, because this one is a classic!
Second Chance Summer by Morgan Matson
Second Chance Summer is the perfect blend of light summer fun, and heavy hitting emotional pain. This is about a girl whose father is terminally ill and he's going to die, so they all go to their summer home for one last summer together. It's absolutely heartbreaking, but well worth a read.
Since You've Been Gone by Morgan Matson
I can't decide whether I like Since You've Been Gone more than Second Chance Summer, because they are both incredible books. Since You've Been Gone is about a girl called Emily who suffers from social anxiety, and who has always used her outgoing friend Sloane as a shield. Sloane leaves without a word, and Emily is left to deal with things herself. I really connected with Emily as a lot of the things she was going through were things that I myself go through a lot. Anxiety sucks, but Since You've Been Gone does a great job of portraying it.
The Between the Lines series by Tammara Webber is a great series to read during the summer. The first book is about a girl called Emma, an aspiring actress, who lands a role in a major motion picture. It's basically the epitome of rich kid celebrity drama, and I loved it. As you read on, the series becomes more in-depth and deals with various issues including but not limited to drug abuse and teenage pregnancy. Where You Are follows Emma again, but Good For You switches focus to Reid, who was a prominent figure in the first book. Here Without You is my favourite of the series, and I don't want to say too much about it in case you haven't read the previous books, but it made me cry.
If you are one of the five people in the world who haven't read Anna and the French Kiss by Stephanie Perkins, then you should aim to pick it up this summer. This companion series takes place in a variety of cities, including Paris, San Francisco, and New York, and it's the perfect way to travel without leaving your bedroom. Lola and the Boy Next Door wasn't as great as Anna and the French Kiss, but it was still pretty enjoyable. I did, however, have a lot of problems with Isla and the Happily Ever After, but I'm giving it a pass due to THAT Anna and St Clair cameo.

Two Way Street by Lauren Barnholdt
I picked this book up on a whim from a local charity shop, and I have to say that I was pleasantly surprised. This might have been my first road trip novel, and it was a good one to start with. It's about a girl who has to go on a road trip with her ex-boyfriend, and it's funny and cute and I really liked it.
Where I Belong by Gwendolyn Heasley
I've only read two Gwendolyn Heasley books, and this is the best one out of those small pickings. Where I Belong is about a girl whose family aren't doing too well after the recession hits, and instead of going to a fancy school, she has to go and live in the Texan countryside. I believe Americans call it the boonies. I really wanted to read a book set in Texas because one of my best friends is from there, and I wanted to get a feel for the state. At least, the countryside, which is where Dee is from.
My Life Next Door by Huntley Fitzpatrick
Everyone and their mother has read this book, but I had to include it on the list. My Life Next Door is the perfect blend of summer and cute family stuff, and I really, really enjoyed it. While I don't OTP the ship, I did think it was cute, and I would quite like to reread this one this year.

To All The Boys I've Loved Before and P.S. I Still Love You are fairly recent reads for me. I only picked up To All The Boys I've Loved Before a couple of months ago, but I absolutely fell in love. It's an adorable story about a girl called Lara Jean whose sister has gone off to university in Scotland, and who begins a fake relationship with a boy called Peter. It's so cute, and I loved the ship because CHEMISTRY, and I also really liked the glimpse we got into American-Korean culture. I finished both books in only a couple of sittings, so if you want a book to read by the pool, I would recommend these.
The Summer I Turned Pretty is the start of a cute summer trilogy by Jenny Han. I read the first two books years ago, back when I first started book blogging. I think younger readers would really enjoy both the first book and It's Not Summer Without You. They're about a girl called Belly (Isabel) who stays at a family friend's house each summer. There are parties, private beaches, pools, and romance. And a love triangle, if I remember correctly, but I'm ignoring that. I really need to finish off the series with We'll Always Have Summer at some point in the future.
Kasie West soared to the top of many people's favourites lists when she released Pivot Point and The Distance Between Us in the same year. West has a talent for gripping you and for telling a cute romance, so it's unsurprising that so many people are fangirling over her books. The Distance Between Us is about a poor girl and a rich guy and they obviously fall in love and it's super adorable and cute. On the Fence is about a girl called Charlie who has about a million brothers and male friends, and she worries that they all just see her as one of the guys. I loved both books, and I can't wait to get my hands on The Fill-In Boyfriend very soon!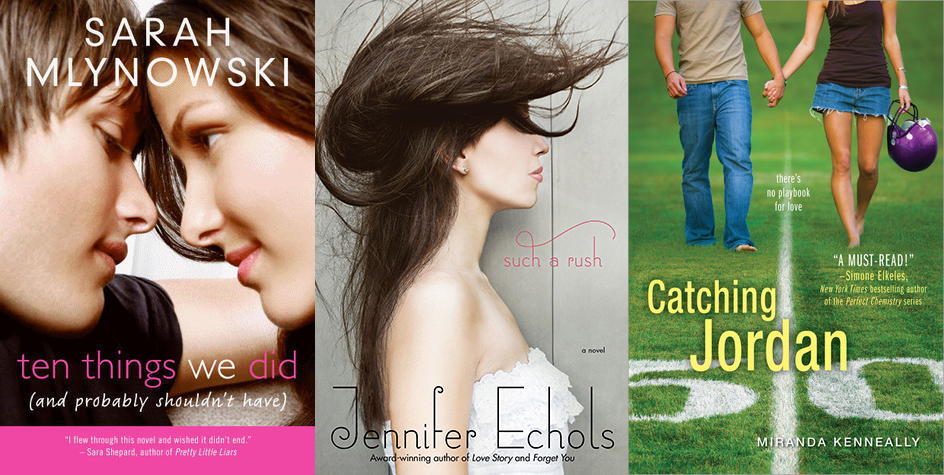 Ten Things We Did (and Probably Shouldn't Have) by Sarah Mlynowski
I really enjoyed Ten Things We Did because a) it's about a girl and her friends who defy a strict parental figure, and I love that, and b) it talks about STD's which is something I haven't seen many YA books do. I'd recommend this for a quick read on the beach!
Such a Rush by Jennifer Echolls
Such a Rush was my first (and currently only) book by Jennifer Echolls, but it was a great one to start off with. It's about a girl from a poor family who dreams of piloting a plane. She goes to work on an airstrip near her trailer, and it's both cute and also a bit heartbreaking. I don't think I was a fan of the romance, but it's mostly about the main character so it's all good.
Catching Jordan by Miranda Kenneally
Again, Catching Jordan is the only book by this author that I have read, but it was a great one for summer and I hope to read the rest of the series this year at some point. I tend to really enjoy stories about tomboys, and Jordan is the captain of the football team. I remember REALLY hating one of the love interests, which is always fun!
Something Like Normal by Trish Doller
Something Like Normal is about a guy who just got out of the army and it's freakin' wonderful and it pretty much killed me. It's a short read so you will fly through it, and I loved the characters and the struggles that the main character was going through. I wasn't expecting to be in so much pain while reading this, but there you go! The ending was too much.
Lies We Tell Ourselves by Robin Talley
LET ME JUST SHOUT ABOUT LIES WE TELL OURSELVES, OK? IT'S HISTORICAL FICTION SET IN VIRGINIA BACK WHEN BLACK AND WHITE STUDENTS WERE STILL SEGREGATED AND THE MAIN CHARACTER SARAH IS ONE OF THE FIRST BLACK PEOPLE TO GO TO A PREVIOUSLY ALL WHITE SCHOOL. PLUS, SHE'S GAY, AND SHE FALLS FOR THE DAUGHTER OF A RICH WHITE GUY WHO BASICALLY RUNS THE TOWN. AND IT'S FANTASTIC AND IF YOU CAN GET THROUGH THIS PARAGRAPH OF SCREAMING THEN YOU SHOULD READ THIS BOOK.
i want to read
what to watch
I like to watch Mean Girls at least ten times a year, and at least four of those watches take place in the summer.

The Notebook has ruined me for all other rain scenes. Fuck my life.
Like with Mean Girls, I like to rewatch Clueless frequently. BECAUSE OTP AND ALSO AWESOMENESS.
I haven't seen the TV show Greek in years but I really want to do a rewatch to see if I still love it. Come to think of it, I'm pretty sure I never actually finished the show. I love a good college drama, and Greek was perfect for that. Did anyone else ship Casey and Cappie? *RAISES HAND*
Yes, 90210 was pretty bad, but it was also really addictive to begin with. I used to watch it religiously at one point until I slowly let CW shows fizzle out of my life. Until The 100 happened because lol, the CW just doesn't want to let me go.
Miss Congeniality is one of those movies you can watch over and over again. If you haven't seen it, then what are you waiting for?! It's a classic.
I recommend Friends With Benefits just for Mila Kunis.
The above gif sums me up pretty nicely.
Not only is Hawaii 5-0 (obviously) set in Hawaii where it's always sunny and people don't have actual jobs and they can sit on the beach all day, surfing and playing the guitar, it also has a ship that is slowly climbing to my OTP list. See above.
Mostly put on my list because of my giant fucking crush on Patrick Swayze. Bonus gif for the OTP: