I'm delighted to have interviewed debut author Betty Culley for my first interview of this new(ish) feature! I'm planning on hosting a lot more authors on the blog in the coming months, and I'm so glad that Betty gets to be the first.
Betty Culley wrote a YA contemporary novel called Three Things I Know Are True, which is coming out on 7th January. It's a great book about a girl whose brother is now paralysed from a gun accident, and she has now become his carer. She also has feelings for her brother's friend who was with him at the time of the accident, so it's a bit complicated! Three Things I Know Are True is super emotional, and I'm so happy to be giving it and Betty a spotlight today.
Author Interview with Betty Culley
1. Congratulations on your debut novel! How does it feel now that you're a debut author?
When I was writing the book I never thought ahead to what it would be like to actually be published! I really had no idea what to expect. But it has been wonderful. I didn't know how much I'd enjoy working with my editor to make THREE THINGS I KNOW ARE TRUE the book it was meant to be. Also, I've really had fun connecting with other debut YA and MG writers and hearing about their novels!
2. What made you want to write THREE THINGS I KNOW ARE TRUE in verse instead of prose?
A writing friend suggested I try verse for the novel, because my writing tends to be spare, anyway. Verse turned out to be just right for Liv's voice!
3. What was the most difficult part of writing TTIKAT? It's quite a hard-hitting book, and it was difficult to read in places!
Some parts were very emotional to write, and even now, they are hard for me to read. For a fifteen year old girl, Liv has a lot to deal with.
4. How different is the final product to the first draft? Did anything huge not make it through editing?
During the editing process, nothing was really cut, but I did add a few more sections about Liv's father and about Jonah before the accident.
5. Can you tell us anything about your next project [I saw that you have a MG book coming in 2021!]?
Sure! I have a middle grade prose novel coming out in Fall 2021 with Crown Books. It's about a boy who comes from a long line of water dowsers in northern Maine and what happens after he sees a huge meteorite fall in his family's hayfield. I am also working on another young adult verse novel. It has an adoption theme, which is a subject close to my heart, since I was in foster care and adopted as a young child.
6. Do you have any 2020 debuts to recommend? Or any that you'd like to read in the near future?
There are so, so many amazing 2020 debut novels coming out! One I'm really looking forward to reading is Dante Medema's THE TRUTH PROJECT. It's about a girl who takes a DNA test and finds out her father is not her biological father!
About the Author
Betty Culley lives in central Maine, where the rivers run through the small towns. She's an RN who worked as an obstetrics nurse and as a pediatric home hospice nurse. Three Things I Know Are True is her debut.
About Three Things I Know Are True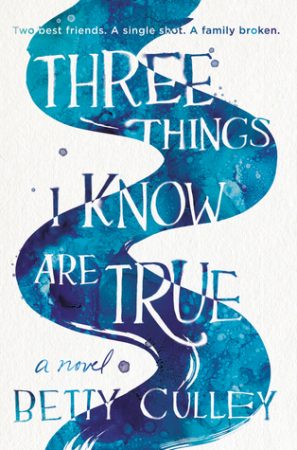 Three Things I Know Are True Release Date:
7th January 2020
Add it:
Goodreads
This moving debut novel in verse about a teenage girl dealing with the aftermath of an accident that nearly takes her brother's life is a stunning exploration of grief and the power of forgiveness.

The reminder is always there—a dent on the right side of Jonah's forehead. The spot you'd press when you felt a headache coming on. The bullet tore away bone, the way dynamite blasts rock—leaving a soft crater.

Life changes forever for Liv when her older brother, Jonah, accidentally shoots himself with his best friend Clay's father's gun. Now Jonah needs round-the-clock care just to stay alive, and Liv seems to be the only person who can see that her brother is still there inside his broken body.

With Liv's mom suing Clay's family, there are divisions in the community that Liv knows she's not supposed to cross. But Clay is her friend, too, and she refuses to turn away from him—just like she refuses to give up on Jonah.
Thank you again to Betty Culley for allowing me to interview her, and I hope you will all check out her book when it comes out on the 7th! It's an emotional ride, and YA contemporary fans are going to love it. My review will be up in a couple of days!