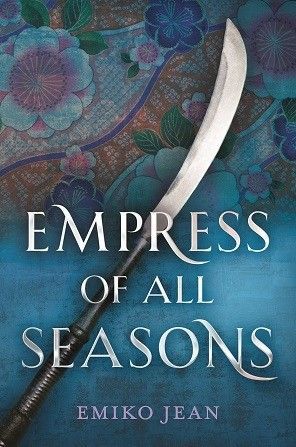 Empress of All Seasons
by
Emiko Jean
Genre:
Fantasy
Release Date:
6th November 2018
Publisher:
Gollancz
Source:
Publisher
Add it:
Goodreads
Rating:
Each generation, a competition is held to find the next empress of Honoku. The rules are simple. Survive the palace's enchanted seasonal rooms. Conquer Winter, Spring, Summer, and Fall. Marry the prince. All are eligible to compete—all except yōkai, supernatural monsters and spirits whom the human emperor is determined to enslave and destroy.

Mari has spent a lifetime training to become empress. Winning should be easy. And it would be, if she weren't hiding a dangerous secret. Mari is a yōkai with the ability to transform into a terrifying monster. If discovered, her life will be forfeit. As she struggles to keep her true identity hidden, Mari's fate collides with that of Taro, the prince who has no desire to inherit the imperial throne, and Akira, a half-human, half-yōkai outcast.

Torn between duty and love, loyalty and betrayal, vengeance and forgiveness, the choices of Mari, Taro, and Akira will decide the fate of Honoku in this beautifully written, edge-of-your-seat YA fantasy.
Oh, this was a juicy fantasy book! I went into this expecting it to focus on the action during the competition where the future empress has to beat four challenging rooms, but it was so much more than that. The world building in Empress of All Seasons was excellent and was truly the most gripping part of the book. I loved it.
In this world, the yokai are enslaved by the emperor and some of them are fighting for their freedom. If you've been following my blog for a while, then you'll know all about my obsession with slave rebellions and uprisings. This was a surprising part of the book for me, but it was such a good surprise.
I also loved the stories about the gods and goddesses who were involved in creating the humans and the yokai and the rest of the world. I would definitely be up for more books or stories set in this world because the world building was fantastic.
The main character, Mari, was a total BAMF, and she was lovely to read about. Her backstory was well developed, and her relationship with her mother was interesting and somewhat relatable, even for a fantasy book. I also adored her relationship with Amiko – even more in hindsight – because while he loved her, she turned him down, and they stayed best friends and he looked out for her. It was super lovely, and there was none of that Nice Guy rubbish cropping up and ruining everything. Platonic relationships FTW.
I am a bit sad that this book is YA, because I feel it could have gotten a lot darker and been longer as an adult fantasy. I just wanted more.
Empress of All Seasons is a wonderful debut, and it'll be one that sticks in my mind when recommending YA fantasy to other readers.