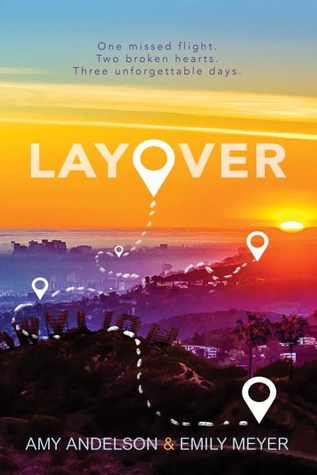 Layover
by
Amy Andelson
,
Emily Meyer
Genre:
Contemporary
Release Date:
6th February 2018
Publisher:
Crown Books For Young Readers
Source:
Publisher
Add it:
Goodreads
Rating:
Flynn: At first we were almost strangers. But ever since I moved to New York, Amos was the one person I could count on. And together we were there for Poppy. (I mean, what kind of parents leave their kid to be raised by a nanny?) I just didn't expect to fall for him—and I never expected him to leave us.

Amos: I thought I was the only one who felt it. I told myself it was because we were spending so much time together—taking care of Poppy and all. But that night, I could tell she felt it, too. And I freaked out—you're not supposed to fall for your stepsister. So I ran away to boarding school. I should have told her why I was leaving, but every time I tried, it felt like a lie.
I can't say I was a fan of this one. I really liked the idea of the three teenagers running around Los Angeles together and seeing the sights, but unfortunately it wasn't executed very well and I had massive issues with the romance.
I didn't mind the idea of the step-sibling romance to begin with when I first read the synopsis because I didn't know the full story. But once I found out more about the relationship and the characters, I was a bit creeped out. Firstly, the two had been step-siblings since they were children. They weren't teenagers who had been thrown into this situation. So even though they didn't really grow up together (they lived in separate houses), I was still a bit creeped out. They also share a half-sibling, which is the part that I really took issue with.
I thought the characters made some really stupid decisions, like ditching their phones as they left the airport. Of course, they're teenagers, and teenagers do stupid things, but it really aggravated me. I could buy them wanting to rebel to keep their (step-)parents together, but I couldn't get over them getting rid of their phones.
I also really disliked Amos, the male main character. He was a complete ass. And the female main character, Flynn, kept going on about how she wasn't like other girls. So yay.
I'm really disappointed with Layover because I really liked the concept. I just wish it had been executed better, and the characters had been given some development instead of staying so awful.