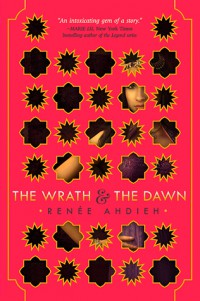 The Wrath and the Dawn
by
Reneé Ahdieh
Series:
The Wrath and the Dawn #1
Genre:
Fantasy
Release Date:
12th May 2015
Publisher:
G.P. Putnam's Sons Books for Young Readers
Add it:
Goodreads
Rating:
In a land ruled by a murderous boy-king, each dawn brings heartache to a new family. Khalid, the eighteen-year-old Caliph of Khorasan, is a monster. Each night he takes a new bride only to have a silk cord wrapped around her throat come morning. When sixteen-year-old Shahrzad's dearest friend falls victim to Khalid, Shahrzad vows vengeance and volunteers to be his next bride. Shahrzad is determined not only to stay alive, but to end the caliph's reign of terror once and for all.

Night after night, Shahrzad beguiles Khalid, weaving stories that enchant, ensuring her survival, though she knows each dawn could be her last. But something she never expected begins to happen: Khalid is nothing like what she'd imagined him to be. This monster is a boy with a tormented heart. Incredibly, Shahrzad finds herself falling in love. How is this possible? It's an unforgivable betrayal. Still, Shahrzad has come to understand all is not as it seems in this palace of marble and stone. She resolves to uncover whatever secrets lurk and, despite her love, be ready to take Khalid's life as retribution for the many lives he's stolen. Can their love survive this world of stories and secrets? 
I can't remember the last time I was this disappointed in a book. I had been looking forward to reading The Wrath and the Dawn before it was even released, and I spent a lot of money on a pretty hardback copy when I was in the US. I was so excited to finally pick it up because I'd heard that it was outstanding, but it was actually pretty shit. I'm so sad.
First of all, the beginning is very confusing. The author's writing is vague af, and it took a while for me to understand what was going on. The prologue was supposed to be vague and mysterious, but I don't think the first couple of chapters should have been the same way. It took me a couple of rereads to understand that the two main characters consummate their marriage twice within the first few pages.
Speaking of which, the two main characters consummate their marriage twice, which is actually something Shahrzad is only doing to avenge her friend's death. So it's a kind of "close your eyes and think of England" type thing. And yet this isn't addressed later. The author ignores the fact that this happened to her, and has Shahrzad fall in love with Khalid anyway. It was so annoying.
I didn't ship Shahrzad and Khalid for this reason. I'm not here for Beauty and the Beast levels of romance, I'm not here for a girl falling in love with a murderer, and I'm also not here for instalove. The romance was fucking awful and offensive, and I was so disappointed.
Khalid has killed hundreds of girls, including Shahrzad's best friend, and yet she falls for him anyway. I mean, even if he did have a good reason (which he might have… or maybe not because SPOILERS) that's not something you can just brush over.
Also, there was shit like "my beautiful monster", "you're mine", and "I'm yours". Vomit.
So yeah, it's shit.