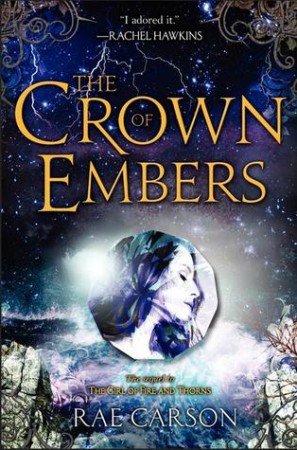 The Crown of Embers
by
Rae Carson
Series:
Fire and Thorns #2
Genre:
Fantasy
Release Date:
September 18, 2012
Publisher:
Greenwillow
Source:
Bought
Add it:
Goodreads
Rating:
She does not know what awaits her at the enemy's gate.

Elisa is a hero.

She led her people to victory over a terrifying, sorcerous army. Her place as the country's ruler should be secure. But it isn't.

Her enemies come at her like ghosts in a dream, from foreign realms and even from within her own court. And her destiny as the chosen one has not yet been fulfilled.

To conquer the power she bears, once and for all, Elisa must follow a trial of long-forgotten—and forbidden—clues, from the deep, hidden catacombs of her own city to the treacherous seas. With her go a one-eyed spy, a traitor, and the man whom—despite everything—she is falling in love with.

If she's lucky, she will return from this journey. But there will be a cost.
This is a difficult review to write because I'm not sure what to say aside from the stuff I already covered in my review of The Girl of Fire and Thorns. The two books are equally great, and I liked them both equally. In The Crown of Embers, Elisa is facing more problems with being queen, and she has to figure out how to defend her queendom (squee) with the help of Hector (SQUEE) and her other friends in her court.
Rae Carson has done an amazing job of building upon the foundation that she created in the first book. Sometimes I find that second books in a trilogy are simply a stepping stone from book one, where the world is created, to book three, where the epic climax happens, but The Crown of Embers really impressed me because it built upon what had already happened and had been developed, and it didn't feel stagnant or pointless.
Elisa is going through some of the best character development I have ever seen in YA. Instead of going through everything in book one, she is still growing and changing in this one. She needs to get used to her queenly ways, save people, and manage her developing feelings for Hector. She's a flawless character in my eyes, and I love her to pieces.
You might know by now that slow burn is my favourite thing ever, whether it's to do with romance or just the general plot, because I get excited when everything comes together and causes an explosion in the end. As long as there's some action or twists thrown in there, slow burn is the best. And so how happy was I when Hector and Elisa started to feel the feels for each other? VERY. Elisa lost thingymabob (Humberto? I can't remember his name, I read it months ago, leave me alone) in The Girl of Fire and Thorns, and wasn't even into Hector at that point, but she did notice him. And then in The Crown of Embers her feelings for him start to grow and it's fabulous because I started to like him along with her. We're in this together, bb.
And Hector finally got rid of that disgusting wormstache, and I'm almost tempted to add another star just for that. Congrats on your good life choices, Hector.
The Crown of Embers is an excellent addition to the trilogy, and I can't wait to continue with The Bitter Kingdom. Actually, that's a lie, because I've been slightly distracted and I'm scared of how it's going to end. I am so ready for more epic Elisa moments, though, because she is my queen.